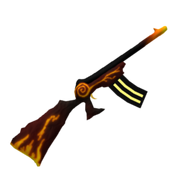 Ashmaker
is a tier 2 assault rifle in
Mad Paintball 2
.
Appearance
The Ashmaker is an assault rifle inspired by the element of fire. It has a dark reddish brown frame with glowing orange cracks and a black barrel with a glowing yellow and orange tip. The magazine is also black and has a glowing hole for paintballs to come out from, as well as two glowing stripes on both sides. While firing or reloading, the glowing bits glow brighter.
Ad blocker interference detected!
Wikia is a free-to-use site that makes money from advertising. We have a modified experience for viewers using ad blockers

Wikia is not accessible if you've made further modifications. Remove the custom ad blocker rule(s) and the page will load as expected.