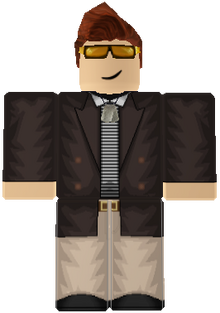 Cliff is a character introduced in the 2014 Christmas Update in The Mad Murderer, also making an appearance in Mad Paintball as a rifle class character, as a Tier 1 Character Card in Mad Games and as an exclusive character in Jury Rigging.
Appearance
He is a male with the Gold Flash Shades, the Rick hair, Dog tags, the Finn McCool face, a brown trench coat with a striped shirt under it, and cream coloured pants and brown shoes.
His appearance is a nod to Rick Astley.
Trivia
He was not removed in the Old Merge, unlike most of the XMAS crew.
Cliff also appears in Mad Paintball.
Ad blocker interference detected!
Wikia is a free-to-use site that makes money from advertising. We have a modified experience for viewers using ad blockers

Wikia is not accessible if you've made further modifications. Remove the custom ad blocker rule(s) and the page will load as expected.