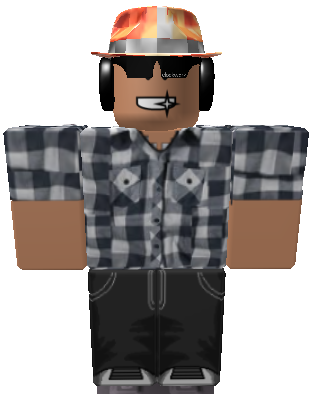 David
was one of the original characters from The Mad Murderer.
Appearance
He was a white male with an orange sparkle time fedora, clockwork sunglasses, a light grey, grey, and black flannel shirt, black pants, and white shoes. David had the Shiny Teeth face.
He resembled a ROBLOX user named taymaster, the creator of Twisted Murderer. Only differences included his fedora having a different texture and lack of body package.
Trivia
David was later removed in versions 0.2.2 like the most of the original crew, but wasn't brought back in 0.2.3 (old merge update).

The reason David was removed was because of loleris' competition against taymaster. The character was supposed to resemble him, but when Twisted Murderer was created and became rivals with The Mad Murderer, he was removed.
Some say that David was not only removed because of the competition with Taymaster, but also because of Dave being added in during update 0.2.2., however, nettimato confirmed that David was the reason WHY Dave wasn't added in the first place.

David is seen in Julie's Mad Paintball portrait in a picture of him talking with Dennis.