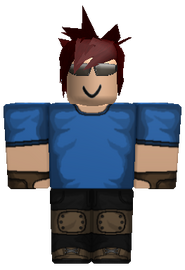 Duke
 is a character introduced in the 2014 Summer Update and a new addition to The Mad Murderer.
Appearance
He is a white male with spiky auburn hair, sunglasses, Rambo Top Blue, and Padded Bottom Black. These clothes were made by Gusmanak, using them from the game "Apocalypse Rising".
Trivia
Duke was removed in the Christmas Update, but added back in the Old Merge Update.
Duke's hair was glitched into his head for a while, and this was fixed in the XMAS Update.
Duke also does parkour, which saves him from several murder attempts.
Duke's outfit and shades are present in Mad Paintball 2.
According to Jury Rigging, it is stated that there are rumors of his true identity of being a vampire. RukatuKDH came up with the idea.
Ad blocker interference detected!
Wikia is a free-to-use site that makes money from advertising. We have a modified experience for viewers using ad blockers

Wikia is not accessible if you've made further modifications. Remove the custom ad blocker rule(s) and the page will load as expected.