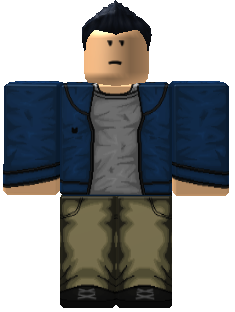 Ethan is one of the new characters from the 2014 Summer Updates.
Appearance
He wears a gray T-shirt with a blue jacket over it, desert yellow colored pants, and possesses black hair as well as a face that makes him look rather careless. Ethan's face is: ¬_¬
Trivia
According to Paintball Galore's description of Eliah, Ethan and Eliah are brothers.

They also wear the same shirt, but different in colors. His is blue and Eliah's is red.

Ethan was deleted in the XMAS Update, and was put back in the Old Merge.
Ad blocker interference detected!
Wikia is a free-to-use site that makes money from advertising. We have a modified experience for viewers using ad blockers

Wikia is not accessible if you've made further modifications. Remove the custom ad blocker rule(s) and the page will load as expected.