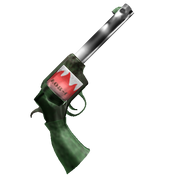 Flamevolver
is a tier 3 revolver skin in
Mad Games
.
Appearance
Flamevolver is a handgun with a white and red gas container on the place of the revolver's drum. 1-80A (or A08-1 when viewing from the other side) is written with black letters on the side of the gas container. Excluding the green front sight, Flamevolver's barrel is light gray and has small holes on the sides near the end. It was based on the Flamethrower gear.
Description
Instead of gunpowder, this gun burns propane! Yeah!
Ad blocker interference detected!
Wikia is a free-to-use site that makes money from advertising. We have a modified experience for viewers using ad blockers

Wikia is not accessible if you've made further modifications. Remove the custom ad blocker rule(s) and the page will load as expected.