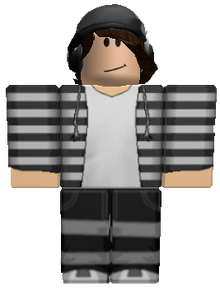 Flinn is a character introduced in the 2014 Summer Update and a new addition to The Mad Murderer.
Appearance
He is a white male with dark brown hair (mainly concealed over a grey skater hat), a white t shirt with a grey and black jacket, grey and black pants, and white sneakers.
Flinn was originally just an outfit user "JaggedDiamond" (the original creator) wore constantly. He decided that he should try submitting it to his favorite game in hopes of the outfit becoming a character. He thought the name 'Flinn' would be a suitable name to match the apparel.
Trivia
Anna is his sister.
Flinn has had a cameo appearance in Eddsworld: The End Part 2 at 1:05. He was seen giving a room to Tom (Thomas Ridgewell), and the room's bed are possessed and on fire.
Flinn can also be seen in Mad Games as he is the sherrif getting backstabbed by Tom in the thumbnail for the gamemode Mad Murderer.
It has been assumed that Flinn is based off of Nazeisgood, but that however is a misconception.
Flinn is in JURY RIGGING