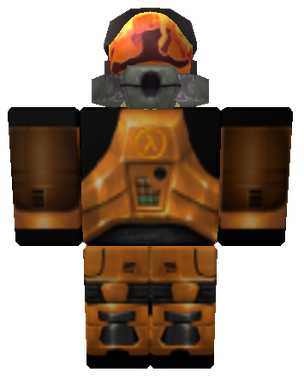 Gordon is one of the original characters from The Mad Murderer, and is a Tier 3 character in Mad Games.
Gordon resembles the video game character Gordon Freeman from the popular series Half-Life. 
Appearance
He wears a full HEV suit worn by some scientists in Half-Life - an orange/golden armor hazard suit, with a Lambda symbol at the chest, and with the Martian Deathtrooper helmet.
Unfortunately, it doesn't grant defensive bonuses in TMM.
Trivia
Removing his mask will reveal that he has the Stare face, like Nick. This only applies to him in TMM.
Gordon also appears in Mad Paintball.
Many confuse Gordon as a HALO character.
Gordon's portrait also appears in Mad Games in the remastered version of the Original Office.
Ad blocker interference detected!
Wikia is a free-to-use site that makes money from advertising. We have a modified experience for viewers using ad blockers

Wikia is not accessible if you've made further modifications. Remove the custom ad blocker rule(s) and the page will load as expected.