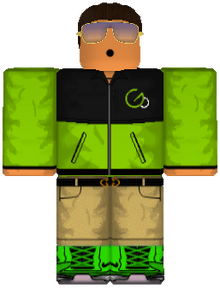 Greg
Greg was a new character added after the XMAS Update in the Mad Murderer, but was removed in the Old Merge. Not a lot is known about him, since he is a new character.
Appearance
Greg is a tanned white male with smooth brown hair who wears a green and black jacket with the GoModern logo on it, brown trousers with a black belt, textured purple and yellow shades, and green sneakers. Greg has the Whistle face.
Trivia
Greg was added in the XMAS Update.
Greg was removed in the Old Merge.