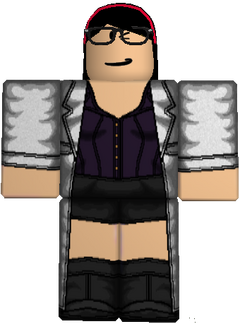 Jessi is one of the most recent character in the Mad Murderer, and is a Tier 1 character in Mad Games.
Appearance
Jessi has black hair with a red headband, and the Hipster Glasses. She wears a white trench coat, a purple shirt with golden buttons, black shorts and black boots.
Trivia
She was created by TwoMindedMusic, but the model was published on account of Tickity14.
Ad blocker interference detected!
Wikia is a free-to-use site that makes money from advertising. We have a modified experience for viewers using ad blockers

Wikia is not accessible if you've made further modifications. Remove the custom ad blocker rule(s) and the page will load as expected.