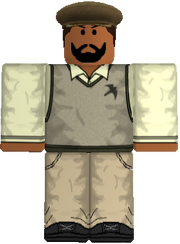 Basic Info
Joseph is a character introduced in the XMAS update and removed in the Old Merge Update.
Appearance
Joseph wears a beard, smooth brown hair with a Canvas Cap, a pitch undershirt with a tan vest, light brown slacks and black shoes. Joseph has the Daring Beard face.
Trivia
Joseph is often confused with Francis.