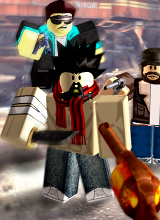 Juggernaut is a gamemode in Mad Games.
Gameplay
A single murderer known as the Juggernaut is chosen from the group of players, while the others become sheriffs. The sheriff team's goal is to defeat the Juggernaut, who in return tries to kill them all.
Unlike normal murderers, the Juggernaut can survive multiple hits, scaling up with player count. A red target appears above the Juggernaut's head, preventing him from blending in among players. A red health bar appears in the GUI, displaying Juggernaut's current health to every player.
Trivia
Ad blocker interference detected!
Wikia is a free-to-use site that makes money from advertising. We have a modified experience for viewers using ad blockers

Wikia is not accessible if you've made further modifications. Remove the custom ad blocker rule(s) and the page will load as expected.