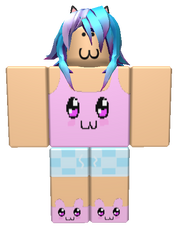 Kat
is a new character added in the 2014 Christmas Update of
The Mad Murderer
, a character in
Mad Paintball
, a craftable character in
Jury Rigging
, and is a Tier 4 character in
Mad Games
.
Appearance
She is a light-skinned nekomimi who wears light blue checkered shorts, a pink tank top with a cute face design, and matching shoes with cute faces resembling cats. Kat has blue and purple hair, and wears Kitty Ears. She has the :3 face.
Her blue/purple hair colour might not be her natural hair color.
Trivia
Ad blocker interference detected!
Wikia is a free-to-use site that makes money from advertising. We have a modified experience for viewers using ad blockers

Wikia is not accessible if you've made further modifications. Remove the custom ad blocker rule(s) and the page will load as expected.