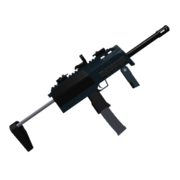 The
Loop
is a tier 3 assault rifle in
Mad Paintball 2
.
Appearance
The Loop is based on the H&K MP7 with an extended barrel. Although the MP7 is actually classified either a machine pistol, a submachine gun or a personal defense weapon in real life, it is classified as a rifle in-game due to lack of the proper weapon type in the game.
It has a dark metal receiver with black plastic pads on the sides of the user half of the receiver and two unused picatinny rails on the sides of the other half. The standard iron sights are folded down out of the way of a reflex sight sitting on top of the weapon. The weapon also has a retracting stock and folding foregrip, which are quickly taken into the battle mode during equip animation.
Ad blocker interference detected!
Wikia is a free-to-use site that makes money from advertising. We have a modified experience for viewers using ad blockers

Wikia is not accessible if you've made further modifications. Remove the custom ad blocker rule(s) and the page will load as expected.