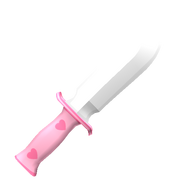 Lovestruck
is a knife skin in
Mad Games
.
Appearance
Lovestruck is a knife with light gray blade and pink grip with two hearts. Faint but thick outlines can be seen on the edges of the mesh. It was based on Echo's knife.
Kill Effect
Players killed by Lovestruck emit a kissing-like smooch sound and a sound of a bell. Dead player's remains begin to radiate floathing pink heart particles.
Ad blocker interference detected!
Wikia is a free-to-use site that makes money from advertising. We have a modified experience for viewers using ad blockers

Wikia is not accessible if you've made further modifications. Remove the custom ad blocker rule(s) and the page will load as expected.