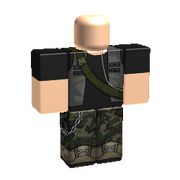 Motorhead
is a tier 0 outfit in
Mad Paintball 2
. It is one of the four outfits that may be automatically equipped to players who are playing for their first time.
Appearance
The Motorhead has white skin, camouflage pants with chains, black shirt and vest. It resembles a common Biker.
Trivia
This outfit is also used by Clutch.
Ad blocker interference detected!
Wikia is a free-to-use site that makes money from advertising. We have a modified experience for viewers using ad blockers

Wikia is not accessible if you've made further modifications. Remove the custom ad blocker rule(s) and the page will load as expected.