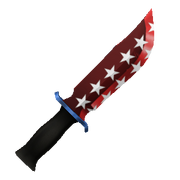 Patriots' Knife
is a Knife Texture representing the colors of the American flag. It is a red knife with white stars over it and a blue hilt. The Patriots' Knife costs 10 credits per round as murderer. After the XMAS Update, the Patriot's Knife could only be purchased permanently.
Shop Description
"Ahh...AMERICUH!"
Ad blocker interference detected!
Wikia is a free-to-use site that makes money from advertising. We have a modified experience for viewers using ad blockers

Wikia is not accessible if you've made further modifications. Remove the custom ad blocker rule(s) and the page will load as expected.