Peter is one of the original characters from The Mad Murderer, and is a Tier 1 character in Mad Games.
About
He is a scientist, and proudly shows it with an atom t-shirt and white lab coat. Peter is a white male with shaggy brown hair and black pants and blue shoes. Peter has the Joyous Surprise face.
Trivia
Peter's original appearance was very similar to his current one.  His new appearance uses fewer colors.
Peter also appears in Mad Paintball as a starter rifle class character.
Peter likes doing team projects and science.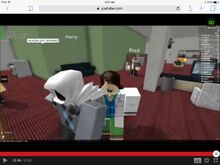 Ad blocker interference detected!
Wikia is a free-to-use site that makes money from advertising. We have a modified experience for viewers using ad blockers

Wikia is not accessible if you've made further modifications. Remove the custom ad blocker rule(s) and the page will load as expected.