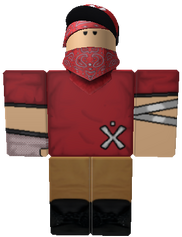 Red
is a male character introduced in the Winter Update in
The Mad Murderer
, and is a Tier 4 character in
Mad Games
.
Appearance
He is a white male who wears the Redcessorize hat, red shirt, and black Adidas shoes with khakis.
Trivia
He is removed at the Old Merge update, but re-added in the 1.0.0 update.
He can also be seen in Mad Paintball hereas the final unlockable character.
He is a street gangster that uses sub-machine guns.
He strongly resembles a Bloods gang member.
It is believed that Red is loosely based off of "Red", a character from the 'Pokemon' series.
He is also seen wielding an Uzi in Mad Paintball portrait. Though the Uzi in the picture does not appear in both The Mad Murderer and Mad Paintball when playing as Red.
Ad blocker interference detected!
Wikia is a free-to-use site that makes money from advertising. We have a modified experience for viewers using ad blockers

Wikia is not accessible if you've made further modifications. Remove the custom ad blocker rule(s) and the page will load as expected.