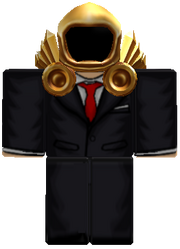 Rick is one of the Summer Update characters in the Mad Murderer.  
Appearance
Rick wears a black suit with a red tie and the Dominus Aureus. Unlike the other fellow Dominus wearer, Harry, he has a head inside the hat.
Trivia
Unlike most of the crew, Rick was never removed (this includes at Christimas Update, along with Axel, Gordon, Jack, and Tom).
He is commonly believed by fans to be the brother of Harry.
Ad blocker interference detected!
Wikia is a free-to-use site that makes money from advertising. We have a modified experience for viewers using ad blockers

Wikia is not accessible if you've made further modifications. Remove the custom ad blocker rule(s) and the page will load as expected.