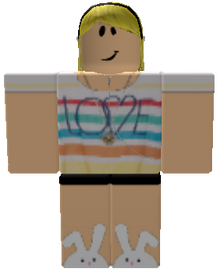 Basic Info
Rose is one of the original characters from The Mad Murderer. Not much is known about her, even if she is one of the original characters.
Appearance
Rose is a white female with golden blonde hair, wears white ear-buds, a striped "Love" T-shirt, a bronze heart pendant, black shorts, and white bunny slippers. Rose has the Mr. Chuckles face.
Trivia
Rose was removed in the XMAS Update, but she was re-added in the Old Merge.
Ad blocker interference detected!
Wikia is a free-to-use site that makes money from advertising. We have a modified experience for viewers using ad blockers

Wikia is not accessible if you've made further modifications. Remove the custom ad blocker rule(s) and the page will load as expected.