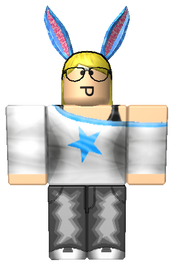 Sarah is one of the original characters from The Mad Murderer.
Appearance
She is a white female with blonde hair and the :P face. She wears blue and pink bunny ears on her head, black nerd glasses, a white one shoulder shirt with a blue star on it, shiny grey pants, and white sneakers.
Canons and Trivia
Sarah may be Jen's sister, as they both are bunny-related along with Rose, but this is unlikely, so this is not a fact until loleris or nettimato announces the canon.
Sarah was removed in the XMAS Update, but was put back in the Old Merge.
Ad blocker interference detected!
Wikia is a free-to-use site that makes money from advertising. We have a modified experience for viewers using ad blockers

Wikia is not accessible if you've made further modifications. Remove the custom ad blocker rule(s) and the page will load as expected.