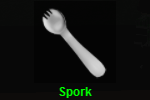 The
Spork
is an accessory in The Mad Murderer. As the murderer throws knives, non-murderers can throw sporks (a spoon/fork mix) and set innocents off guard, thinking a murderer is near. The spork changes colors with each throw and omits a "thwoing" sound effect. The Spork costs 450 credits per round.
Shop Description
The murderer throws knives...you throw sporks! Um....yeah!
Ad blocker interference detected!
Wikia is a free-to-use site that makes money from advertising. We have a modified experience for viewers using ad blockers

Wikia is not accessible if you've made further modifications. Remove the custom ad blocker rule(s) and the page will load as expected.