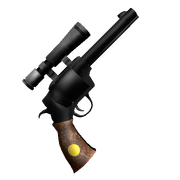 Tacticool
is a tier 5 revolver skin in
Mad Games
.
Appearance
Tacticool is a revolver that uses an unique mesh, which is otherwise similar to other revolvers but has a nonfunctional scope attached. It has a smooth, black paint job and a brown grip with golden letter M.
Description
We heard people like no-scoping, so we added a scope on the gun for you to avoid using!
Ad blocker interference detected!
Wikia is a free-to-use site that makes money from advertising. We have a modified experience for viewers using ad blockers

Wikia is not accessible if you've made further modifications. Remove the custom ad blocker rule(s) and the page will load as expected.