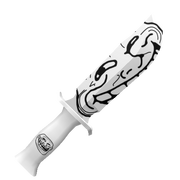 Troll Knife
is a tier 3 knife skin in
Mad Games
.
Appearance
Troll Knife is a white knife with large troll face on the blade, small troll face on the grip, and a small forever alone face hidden on the lower side of the hilt.
Kill Effect
Players killed by Troll Knife transform into a pile of Stock Knives, rendering the fallen player completely unrecognisable. A special sound cue is heard when the kill happens, followed by voice of a small audience laughing.
Ad blocker interference detected!
Wikia is a free-to-use site that makes money from advertising. We have a modified experience for viewers using ad blockers

Wikia is not accessible if you've made further modifications. Remove the custom ad blocker rule(s) and the page will load as expected.